Celtics vs. Heat: Boston coach Joe Mazzulla admits locker room disconnect after Game 3 loss to Miami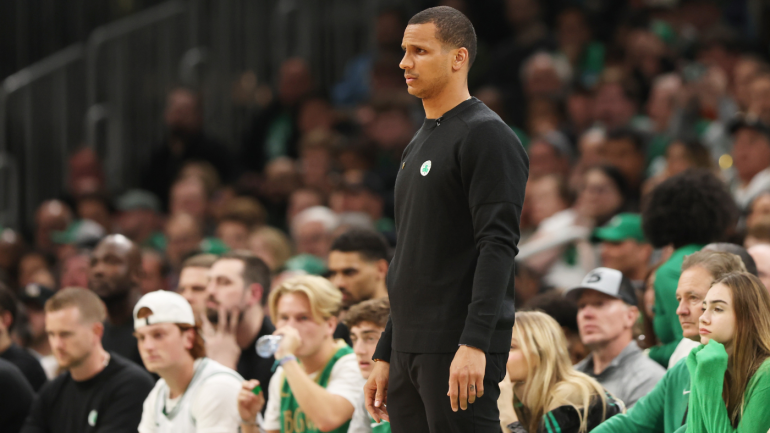 Getty Images
After a 128-102 loss to the Miami Heat on Sunday night, Boston Celtics head coach Joe Mazzulla got pretty candid during his postgame press conference. In a game where Boston fell behind by as many as 33 points and star players Jayson Tatum and Jaylen Brown combined for just 26 points, the Celtics looked like a complete disaster in a must-win situation. The Heat came out on a mission, while the Celtics played like a team with extra life to spare.
As a result, Boston not only faces elimination, but the potential to be swept on Tuesday is a very real possibility. It's reached disaster levels for the Celtics, and after the game, when asked if he thinks there's a disconnect between himself and his players, Mazzulla gave a rather surprising answer.
"Yeah, that's why I have to be better at figuring out what this team needs," Mazzulla said.
When asked a follow-up question about why he thinks there is a disconnect, Mazzulla responded with "I'm not sure."
That's definitely not what you want to hear from your head coach. While it's true that Celtics players have started to tune Mazzulla out, it's not something you admit to the media, especially after an embarrassing loss like that in the postseason.
Mazzulla's response doesn't exactly bode well for his job security beyond this season either. While the Celtics removed the temporary tag in the regular season and signed him to a long-term contract, that doesn't mean Boston will be content to keep him if the players are already starting to get mad at the guy. This Celtics team has come incredibly close to winning a championship, highlighted by last season's trip to the NBA Finals, and keeping a guy around who has already lost the locker room in Year 1 is not a worthwhile use of time for a roster that is a regular championship contender.
While Mazzulla's response could just be chalked up to another brutally honest response in a string of many similar responses this season, it's not great to have it up in the air as his team tries to stave off elimination. Now he has his players reacting to what he said, which takes the focus away from trying to extend this streak against the Heat as long as possible.